Jiaoying Summers is one of comedy's fastest rising stars having forged her own path. A tumultuous path that began all the way in mainland China where she was born, and almost discarded in the 1990s when the 'one child policy' era was a law and boys were the only honorable child to have.
A mother of two and former beauty queen, a go-getter and full of self-deprecation she acquired Hollywood Comedy Club shortly before the pandemic. 
The underground comedy space provides emerging comics an opportunity to practice their craft 7 days a week. 
She often headlines at Hollywood Improv, Comedy Store, Laugh Factory West Hollywood, Caroline's in NYC, "Netflix is a Joke" comedy festival etc. 
Comedy special Comedy InvASIAN 2.0. currently available for streaming on Peacock.
She launched her Podcast "Tiger MILF" last October which you can find where you usually find your podcasts
She hosts comedy nights "Asians are Funny" to help raise money for many AAPI and raise awareness on  hate and violence against the AAPI community.
TIK TOK https://www.tiktok.com/@jiaoyingsummers?lang=en
IG https://www.instagram.com/jiaoyingsummers/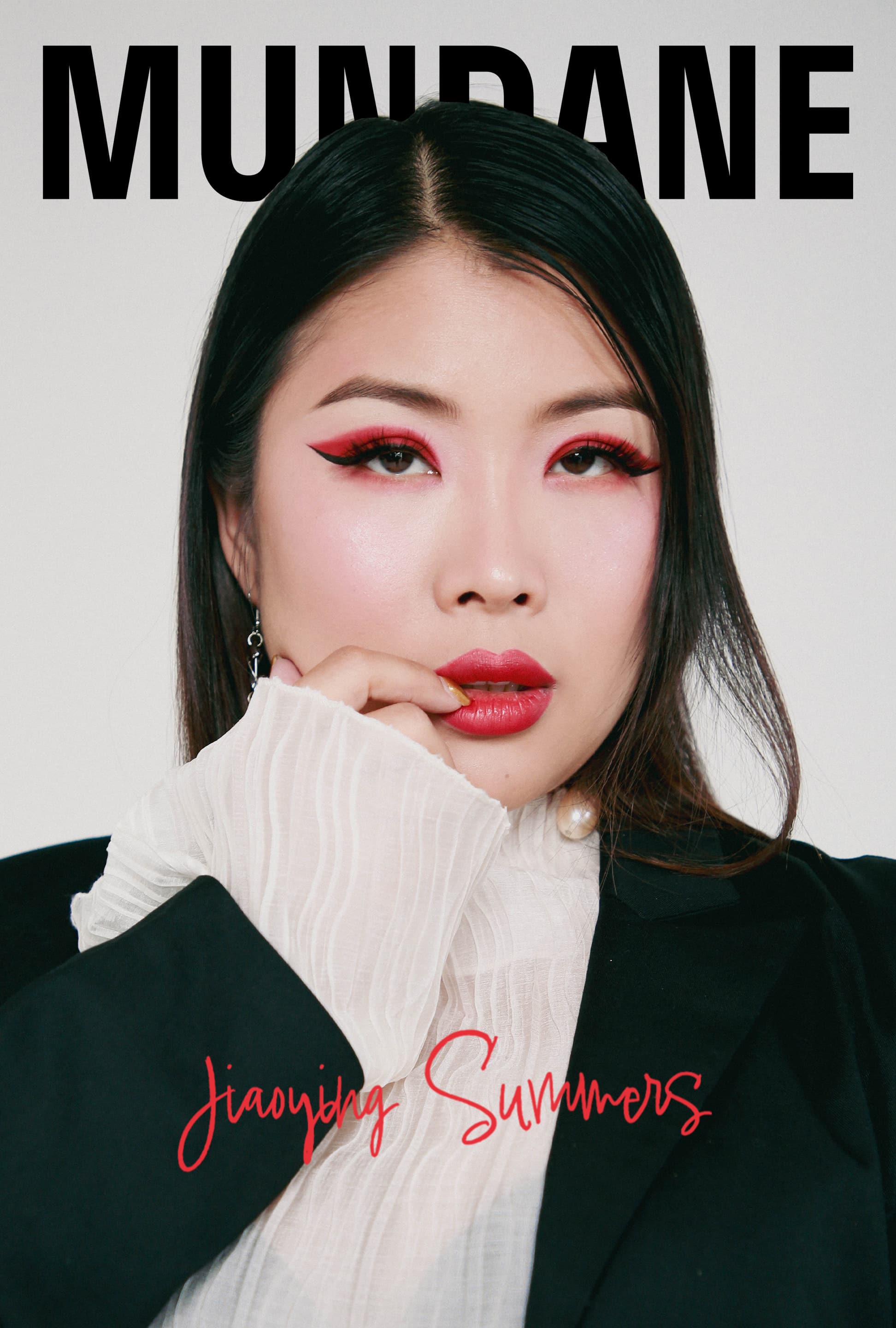 Photography P. Mastro
Hair Stylist Rolando Aqui
Make up Artist Evelyn McCullough
Stylist Daisy Stackpole
Graphic Designer Diana Flynn
Interview Luca Di Fabio
What was it like to grow up in China under the one child policy? How did that influence your upbringing?
I did feel unwanted and that I was never good enough or pretty enough. I knew in Chinese beauty standards I wasn't a pretty girl, but I always thought there was nothing wrong with my squared jawlines, olive skin and fuller lips. I watch so many Hollywood movies with beautiful women of color. I wanted to go to America when I was a very young teenager, I wanted to be beautiful without changing my skin or covering my jawline.  I always knew I wanted to leave China and as soon as I was able to, I applied to every college in the USA.  The first "yes" was from  the University of Kentucky. I accepted ,not knowing anything about Kentucky and "nobody lies about going to Kentucky." !!.  I  finally fit in when I  started tutoring  football players in science and math.  It helps that I am smart  and everybody likes friends of the football players.
What drew you to comedy in the first place?
I noticed that everything is good when you make people laugh.  It was certainly a way not to be judged and I also think I was born with "funny."  I love to make people laugh and also throw in some good zingers about life, love and destiny. Being an "unattractive" girl in China, being funny  was the only way I could get attention and feel loved. 
What did you retain from your cultural background to your adult life?
I work very hard and I am very focused.  I knew early in life that  success does not come easily and giving up was not an option. I guess the best lesson is "figure it out."  I am very proud of my cultural roots and I believe that it is my responsibility to bring laughter, unity and compassion to the Asian community. I am very committed to Stop Asian Hate with love and the support of our allies. I want to fight for myself and the AAPI community to earn the respect we deserve in this country. As a single mom of 2 toddlers, I'm out almost every night, trying to be as good as I can get, trying to be a great comedian with the wit and power to make people laugh, make them think deeper.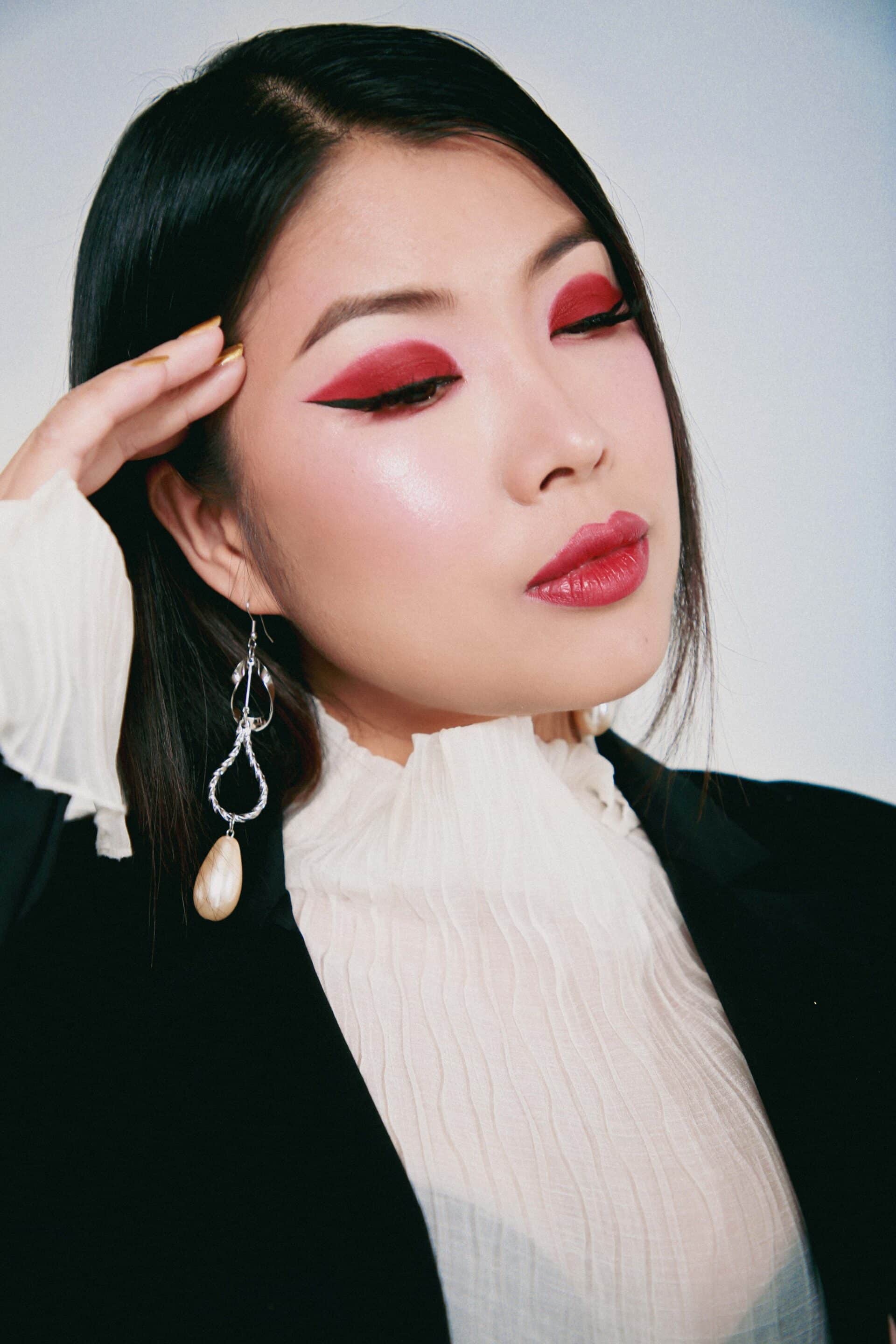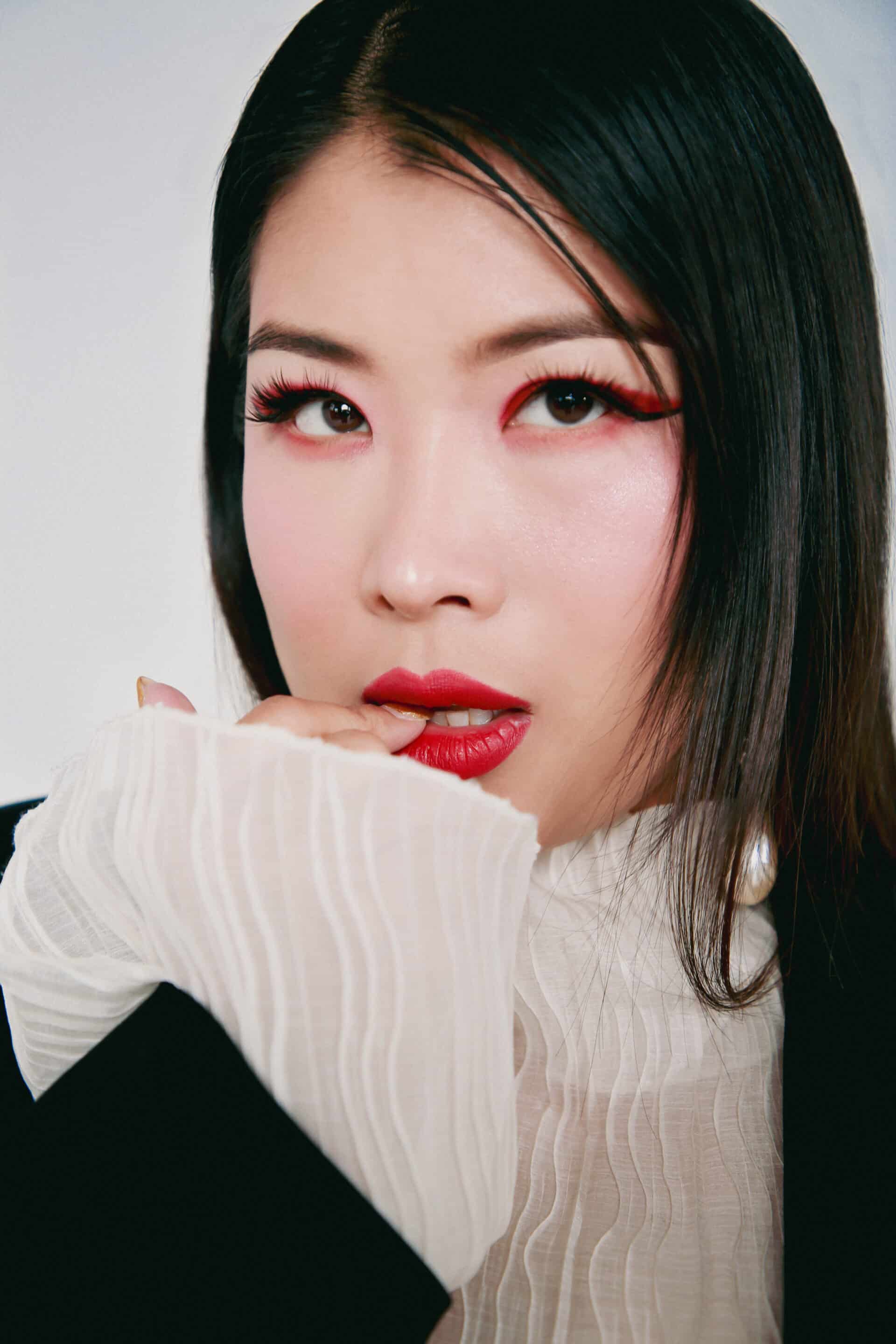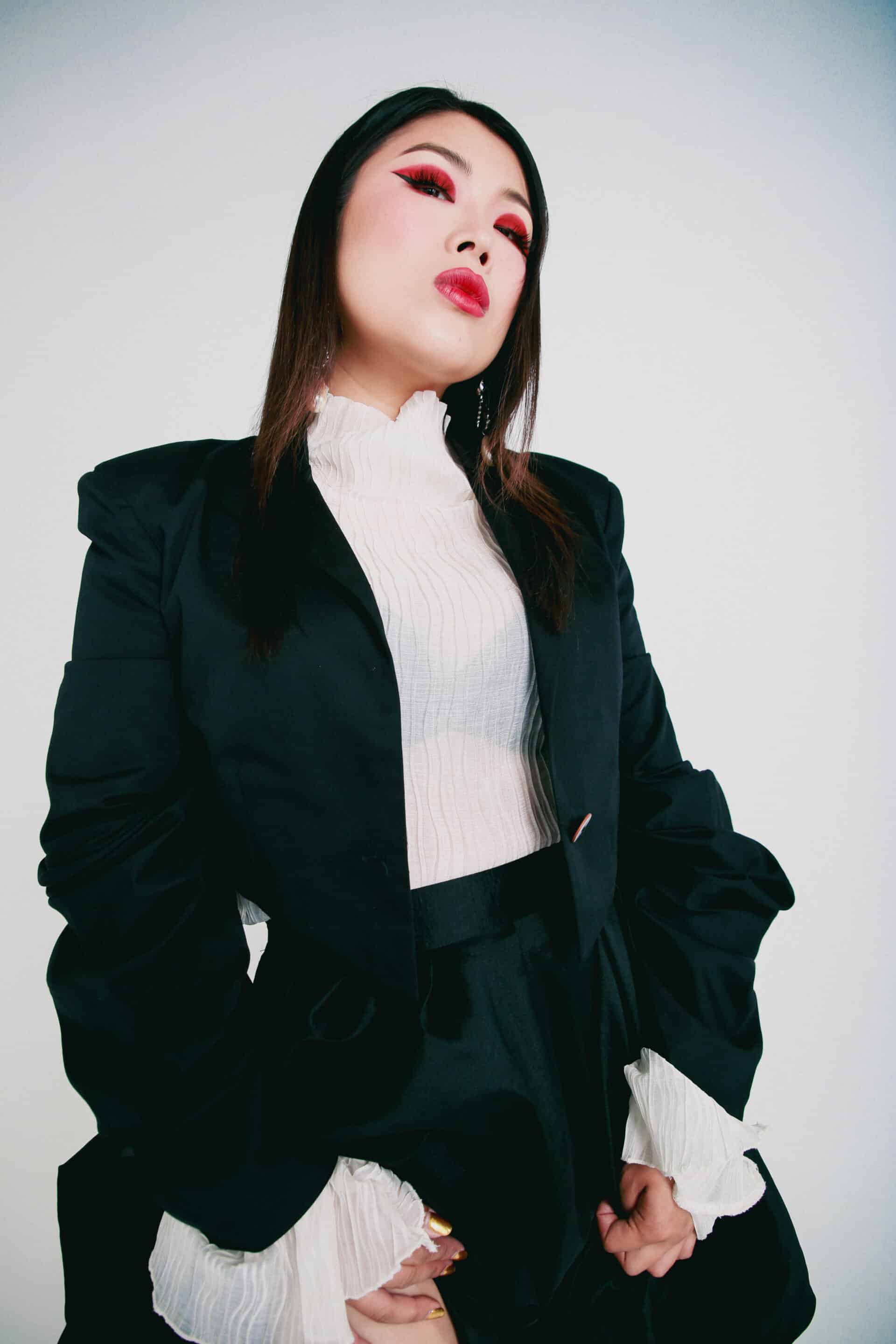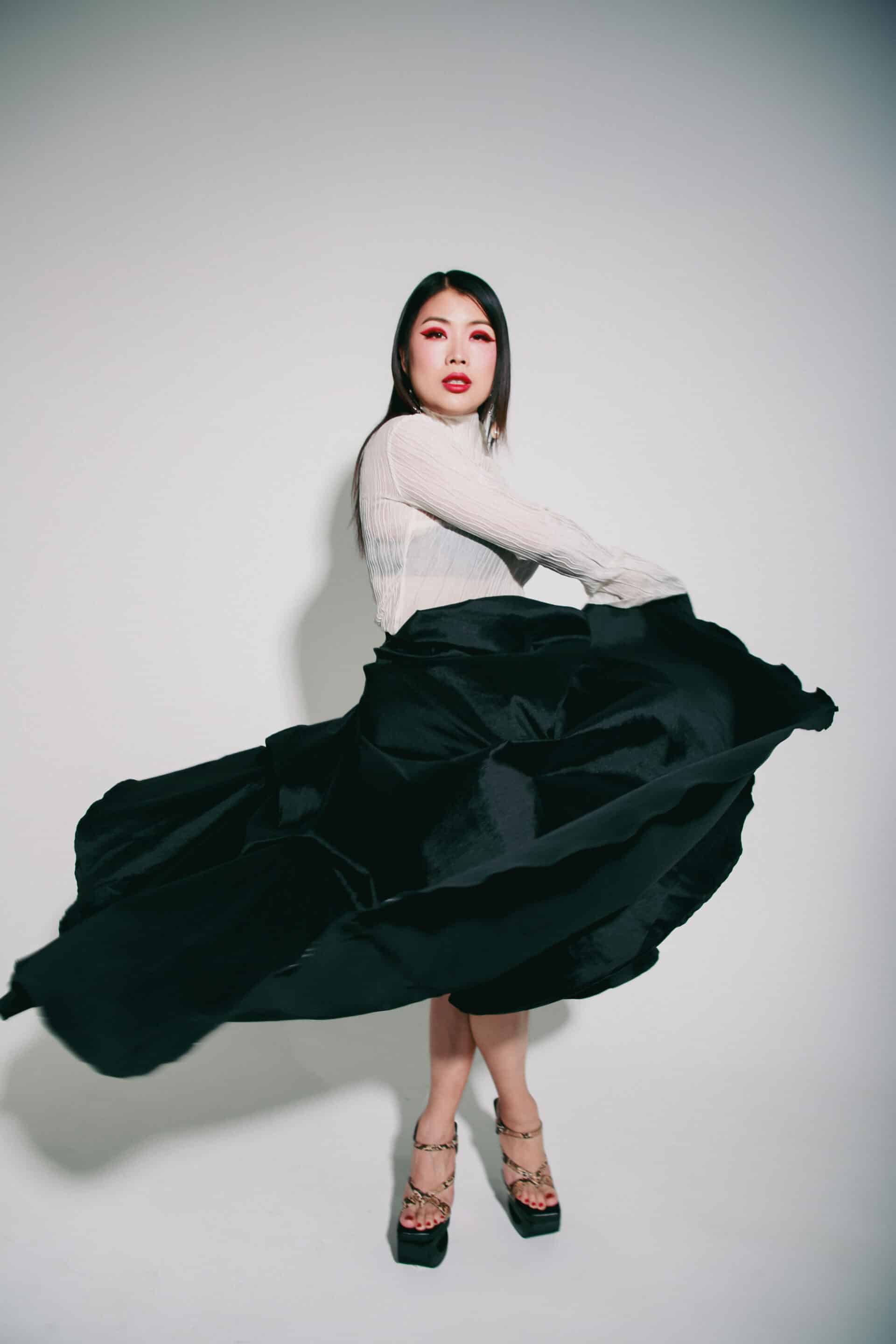 Shirt: Négligé NYC courtesy of HER PR @negligenyc
Jacket: Négligé NYC courtesy of HER PR @negligenyc
Skirt: Atousa G @atousag courtesy of HER PR
Shoes: courtesy of Jeffrey Campbell @jeffreycampbell
Ring: House of Ella courtesy of @626fashionhaus
Earrings: Kairu Jewelry @kairujewelry courtesy of HER PR
How do you share such controversial and impactful experiences with your own kids?
My children are very young so I share what they can understand. My son Winston has come with me to The Hollywood COMEDY, a small club I own, and he thinks Mommy is funny on most days. My national tour commands me on the road for more than half of each month, my mom is learning English and she will help me manage my club in LA.
What's the best joke you wrote?
I write all my material and it depends on the day which joke I like best.  The one that goes over the best on any particular night is my favorite.  The joke that makes my team laugh even though they have heard it 1,000 times.
People ask me how I got the name Summers. My ex-husband's last name is Xia 夏,it means Summers. I was not gonna call myself "Jiaoying Xia," that's way too hard to pronounce and sounds like a Chinese dish that is even too weird for the Chinese to order"  People always ask me how can you own a comedy club in 2 months? That's what happens when you don't marry for love. PeopIe also ask me :" why don't you have a Chinese last name?" I had one, before I got married, I was a Ho.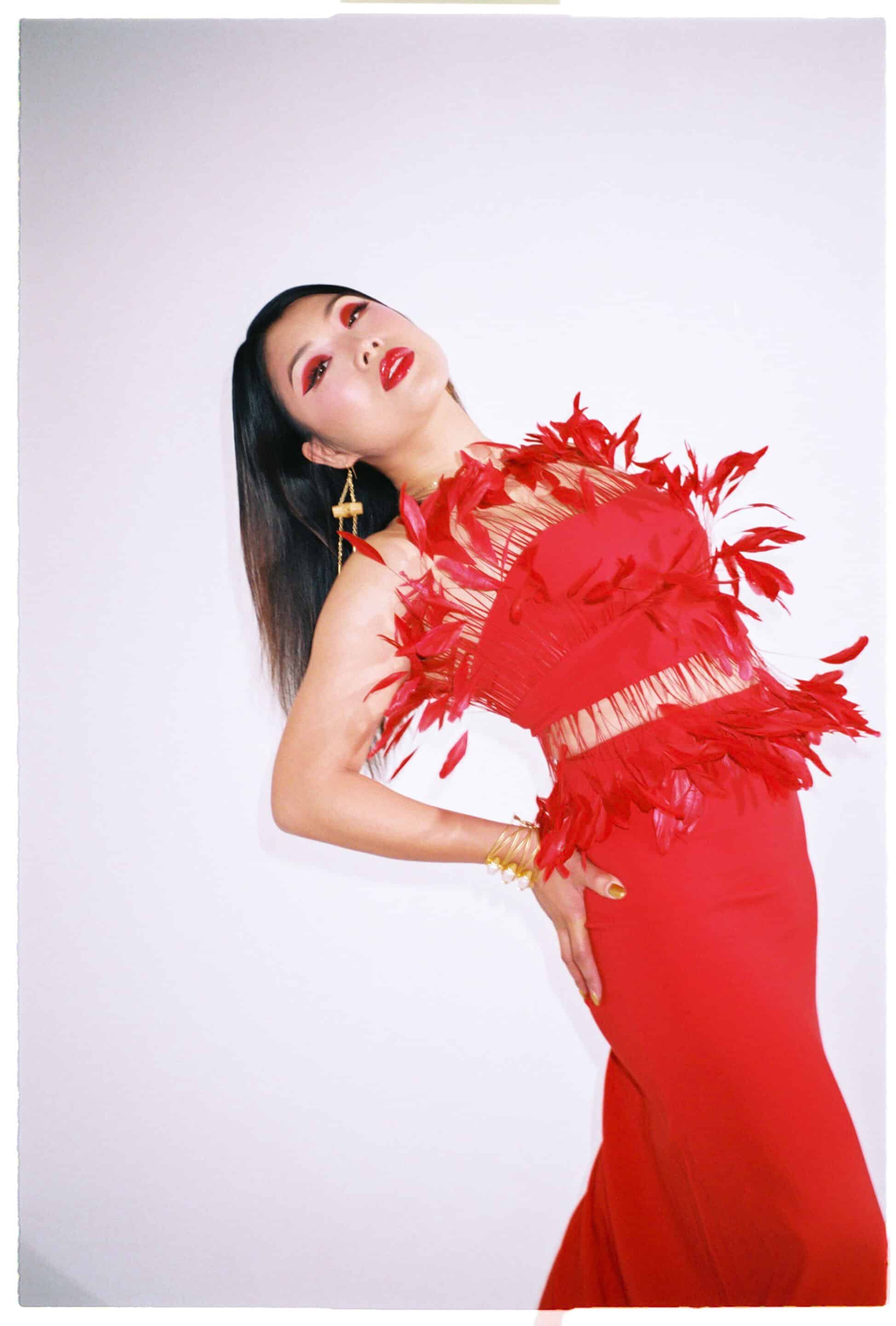 Red set: custom look courtesy of plug pr @plurprla
Earrings: Kairu Jewelry @kairujewelry courtesy of HER PR
Necklace: Jiaoying's Own
Bracelet: House of Ella courtesy of @626fashionhaus
Ring: House of Ella courtesy of @626fashionhaus
Shoes: courtesy of Jeffrey Campbell @jeffreycampbell
What are some of your artistic inspirations today? Other comedians, musicians, artists…
I aspire to be the Bruce Lee of comedy.  I want to do it all and I am a huge Joan Rivers fan. I love Joan Rivers, Whenever I write a new joke I think maybe it's too far, and people might get mad at me, I always ask myself WWJD (What would Joan do), then I smirk and say fuck it! I'm doing it.
 You started your own club to give a platform to emerging artists. 
When I started in comedy there was little stage time for anyone who wasn't established. That is still very true.  And you cannot get established without lots of stage time, so I started my own comedy club to work 10 hours a day and train like a pro athlete. I pushed until I literally lost my voice and it was worth it.  Then covid hit and I worked like a mad woman on TikTok which paid off and I'm so grateful to all my devoted followers who joined the party early on. The Hollywood Comedy is welcoming and diverse and my way of giving back to all the up and coming comedy stars.  
What was the most difficult part in your successful career?
The most difficult part starting out  is still the most difficult part.  Finding your next move and surrounding yourself with a team that believes  in you and really cares. No one can do it all alone. So I get up every day and jump in with the best attitude and energy.  I remain a very positive person. I am only as successful as my last show. I had no ego, I respect the hustle it takes to make it in the business of funny, I started my career sitting on the lawn chair outside the laugh factory, Hollywood improv and comedy store open mics and wait for hours to get a 2 min spot. Nothing was beneath me, I'll do it all over again. I keep pushing and thank you MUNDANE for taking notice.