Photo Credit: Hailey Lozano
After lighting up social media with 20 million-plus views on a handful of teasers, buzzing Los Angeles duo SkyeChristy reveal their latest single "I'm Not Like Alice".  
Listen to "I'm Not Like Alice" HERE.
Today's track cuts deep. Gently plucked acoustic guitar pierces lo-fi production as the chorus rings out, "She's the kind of girl you like. Why you calling me tonight? I'm not like Alice." The duo — which consists of sisters Georgia Christy Edwards and Sophie Skye Edwards—initially ignited viral buzz with a series of TikTok posts. The girls penned "I'm Not Like Alice" in the wake of a breakup Sophie went through. The first clip captured her ex's reaction in real-time and generated 7.5 million views.
Nothing quite matches the power of a sisterly bond. SkyeChristy cements the sonic and spiritual union of sisters Georgia Christy Edwards and Sophie Skye Edwards. The Los Angeles natives began writing and recording music together in high school. They honed their voices in choir, even performing at Carnegie Hall as part of their school ensemble choir. Since 2020, they've unlocked the power of their familial harmony on singles such as "Sending Light (For Lucas)" and "Black Lake." In 2022, SkyeChristy captivated listeners everywhere with "I'm Not Like Alice," sharpening a distinct signature sound and heralding their forthcoming debut. Their bond will only grow stronger.
ok, who's Alice?
Everyone has an Alice in their life. It is the person that makes you feel less than and not good enough. In my case, Alice is the girl my ex moved on with. No shame on her, but you can't help but feel shitty when your ex moves on with somebody you think is prettier and more fun than you are.
How did you guys become a duo?
Well we started singing together casually at the beginning of quarantine during the pandemic. It went from us just having fun singing covers, to us writing songs together. We realized that if we wanted to pursue music, we wanted to pursue it together.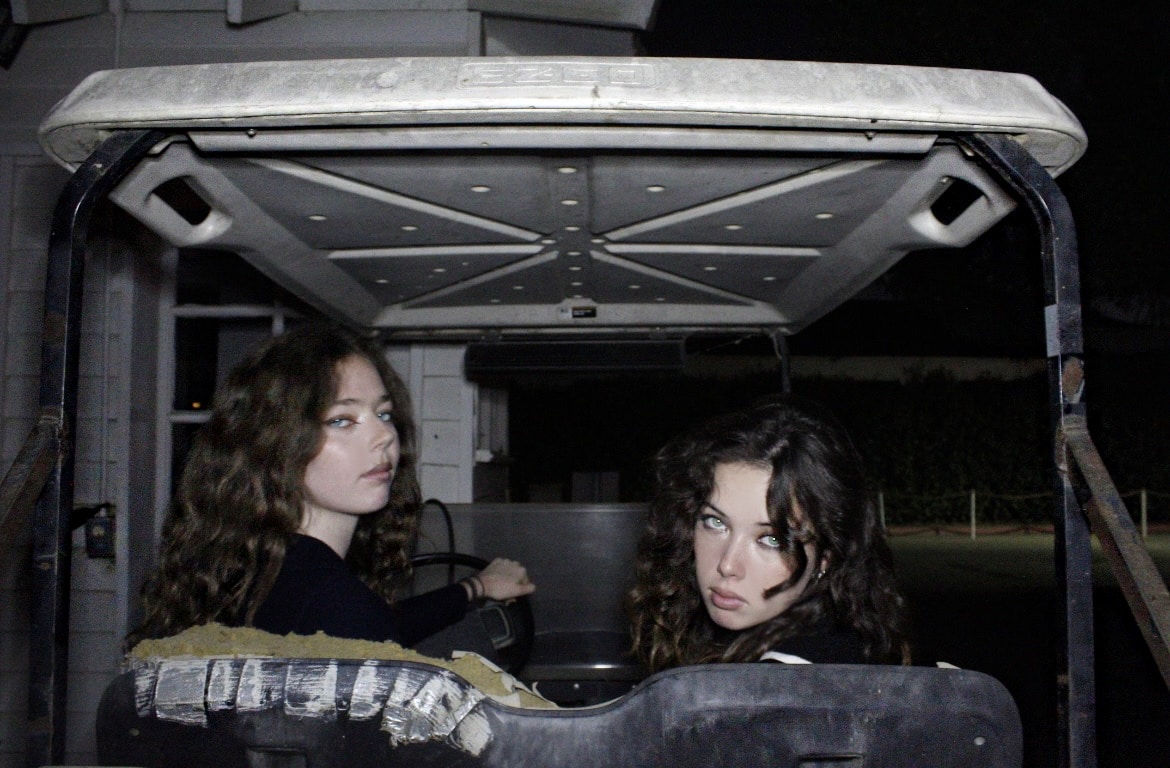 What do you feel makes the two of you a solid duo?
I think our bond as sisters is what makes us most solid. We're able to be completely honest with one another about what sound we want, and we always seem to be on the same train of thought. I think us being siblings is what makes us strong.
How do you bounce ideas off each other or how do you work together?
Normally one of us will bring a song we've been working on to the other sister and more often than not one of us will hate it, but on the off chance that we don't the writing begins. We're very direct with each other, which makes the process a lot faster. We have a few songs we wrote in 20 minutes, and a few that took days. It really just depends on the song.
What's the worst part of being creative partners with your sister?
The hardest part about being creative partners as sisters is probably that at a certain point you have to stop treating each other like sisters and start treating each other more like partners. It's practically instinctive for sisters to fight, so it's taken a lot of practice to not find ourselves arguing amidst writing a song. When you're writing with a family member the regular etiquette of a normal writing session where you might not be feeling an idea or concept and you would say "how about we try this instead" just goes out the window ! You don't have time to waste with a sibling to spare each other's feelings.
What's the first song you remember listening to?
The first song we remember listening to that inspired us was "Put Your Records On" Corinne Bailey Rae.
You started making music so young! How do you think you evolved as artists since then?
I think we have grown mostly in our song writing skills. We've also figured out how to get our music out on social media, which we didn't really do when we first started working on music. We have also played a lot of live gigs throughout 2022, which has taken our relationship and artistry to the next level.
What are your next moves in 23?
The next moves for 2023 would be to get more music out there, and also to see what "I'm Not Like Alice" does in the new year. We hope to perform a lot more live shows and have more opportunities to connect with fans and listeners!