Vancouver's Madisyn Gifford returns for summer with her empowering breakup anthem "Bare Minimum," available for streaming everywhere today via 604 Records. Since making her debut in fall of 2020, Madisyn has released music that both embraces and empowers listeners navigating the turmoil of early adulthood. Turning up her pop sensibility, Madisyn radiates confidence saying goodbye to a toxic ex-lover in "Bare Minimum."
"Bare Minimum" follows the release of Madisyn Gifford's debut EP Learning To Exist – a seven song collection that encapsulates her experiences while transitioning out of adolescence and into adulthood, reflecting all facets of her own emotional spectrum. From the immense grief found in tracks such as her debut single "Without You" and grappling with her own mental health in "Ghost," to flaunting her playful side in focus track "Black Coffee" and the empowering "Voulez-Vous," the collection holds space for every type of listener.
Tell us about the origin of this new track
This single and my upcoming album all started last summer when I went through a breakup and needed to get all of my leftover feelings out into music. I got here through being honest and not being afraid to share my truth through my art!
How would you describe being an artist?
The highs and lows of being an artist are so interesting because as artists we almost rely on the lows a lot of the time in order to create our art and through creating we put ourselves on a brand new high. Especially myself being a bipolar person who's already prone to extreme highs and lows in their life it can definitely be a difficult thing to navigate. I just try my best to live my life from day to day and create when I feel called to it! A lot of the time it feels like my songs write themselves because I just need to get them out and I kind of like to keep it that way.
What's a musical guilty pleasure of yours?
Hmmm… this is a difficult question because I'm genuinely not embarrassed of any of the music I listen to even the early 2010s pop music that tends to be consistently present in my life lol. I think all music serves a purpose even if it's just getting a good laugh or some nostalgia with your friends!(although I should mention that the Victorious and Twilight soundtracks are a staple in my life ahahaha)
What are some sources of inspiration for you?
I find most of my inspiration through my own internal dialogue when I'm out on walks or dealing with an internal struggle as well as of course the interpersonal relationships in my life. I also of course pull a lot of inspiration from the books and movies that I love as well as the music I'm consistently consuming at the time I'm writing!
Who are some musical heroes of yours?
I really look up to women like Taylor Swift and Phoebe Bridgers who prioritize honesty in their writing and are always telling a story you can get lost in within all of their songs. I love feeling like I'm watching a movie in my head when I'm listening to music and I'm so inspired by their incredible ability to do that.
Favorite activity to blow off some steam?
Definitely going out for runs while listening to the 2010s pop music I mentioned earlier lol. And also improv dance. I was in competitive dance growing up and I still find that nothing allows me to get out stray negative emotions the way dancing does(except for maybe writing).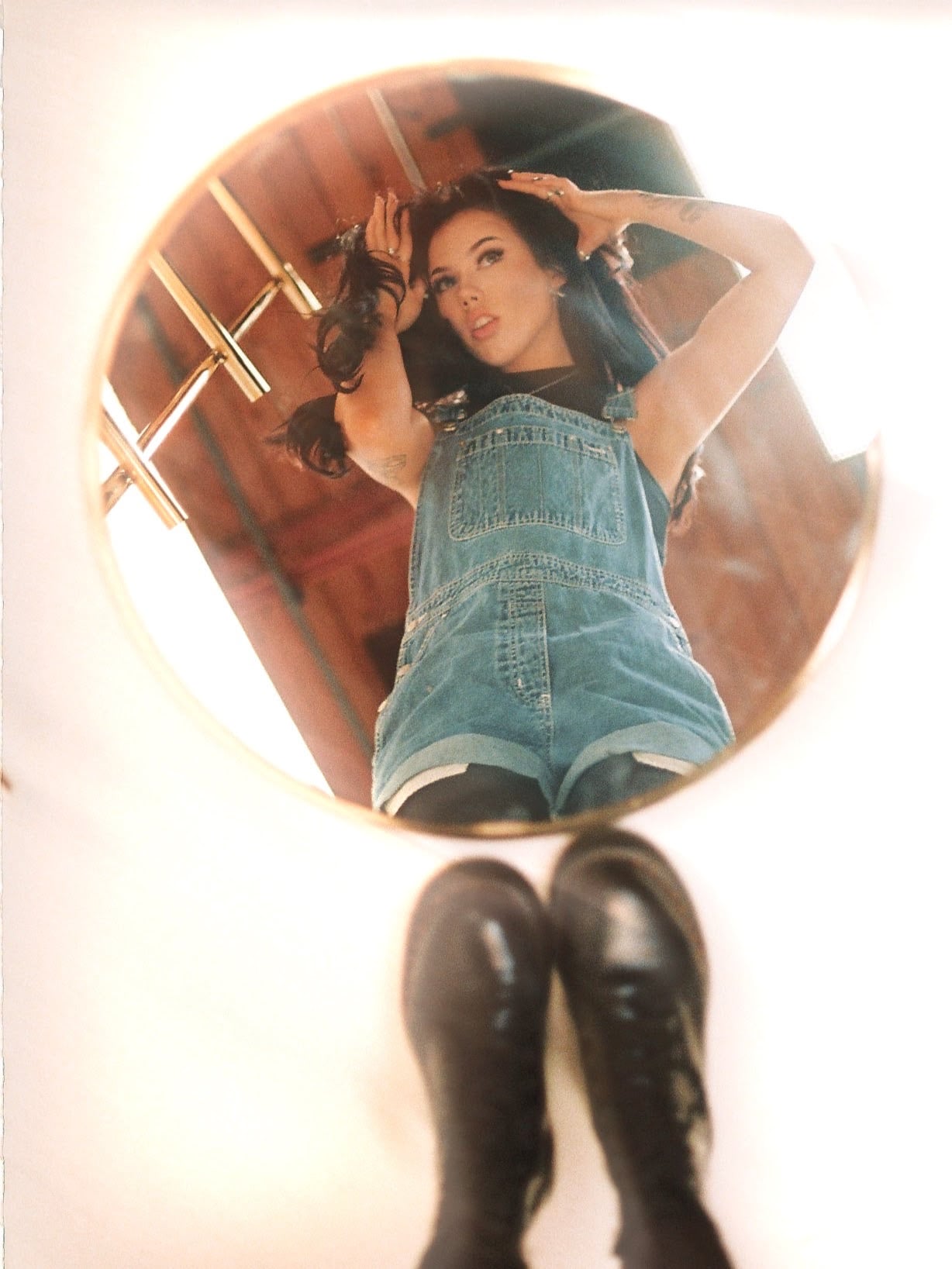 Tell us about your latest release and how it came about
Bare Minimum was written in a time in my life that I was feeling pretty spiteful after a breakup and needed to get all of those feelings out of me and onto the paper. It's the story of me realizing my own worth and what I deserve in a relationship as well as me understanding that I was still hurt at the time and in the process of moving on, and that's ok!
What are some things you do to deal with anxiety and creative blocks?
I try to always give myself permission not to write or create when I don't feel called to it because when I try and force something out of myself that isn't there I just end up on this never ending hamster wheel of frustration. Inspiration always finds me soon enough and I'll drop anything to create in those moments. Mind you this past year it's felt like I can never put the pen down!
What inspires your music videos and looks?
I get most of my inspiration from the movies and books that I love as well as various childhood aesthetic dreams that I've always wanted to fulfill hahah. I feel like the bare minimum music video is a perfect example of that.
What is the most embarrassing memory and most proud moment of your career so far ?
I don't have any embarrassing moments in my career that I can recall right now but trust me when I say that I'm more than embarrassing enough in my personal life to make up for it lol. As for what I'm proud of, I have to say that I'm extremely proud of the album I've written over the past year. It is such a perfect picture of my own personal experience over this past year and I think it's probably my favourite thing that I've ever created.
What is the best advice you've ever gotten?
To treat whatever thing you're doing at this moment like it could be the last thing you do in your life. I don't think I truly understood what living mindfully was until I understood what it meant to do things with that mindset throughout your day.