Emerging artist and true talent BriaR has only been teasing her soon to be massive audience with little snippets and small bites of her undeniably catchy music. Specifically, "Breathe Fire" is the first single off her upcoming debut EP titled 'Finding BriaR' and the whole concept and execution both sonically and visually is intriguing, to say the least.
She digs into the memory of leaving a voice message on her lover's answering machine which comes across as an act resilient frailty showing ultimately how deeply committed she is to make only the truest and most authentic part of herself transpire through her music.
The same authenticity manifests itself through the very fact that wrote and recorded all of her lyrics at home with her younger brother, rapper District 21, very much in the style of personal favorites like Billie Eilish and Finneas or, as she notes, fellow Calabasas residents Willow and Jaden Smith.
Just like her musical heroes, multi-talented performer BriaR grew up in a family of artists, musicians and entertainers. She is in fact the daughter of legendary rapper Mack 10 (also known as part of Westside Connection alongside Ice Cube and WC) with a stepmom in T-Boz of TLC.
Her style bridges soul with psychedelic, R&B with rap, hip hop with art-rock for a utterly unique sound and sensual yet intimate vibe.
Tell us about the genesis of your project. How did you get to where you are now?
The process for my debut EP Finding Briar began over quarantine during 2020. It was such crazy time for everyone and I was looking for an escape from everything. I imagined myself in space. Space seems like such a freeing place with no rules and even, of course, no gravity. Once I had a concept in mind of keeping it intergalactic ,we (my brother and I,) based the song choice and writing process around that.
How would you describe the highs and lows of being an artist?
The highs and lows of being an artist are the same as any other profession. The highs are great especially when you are riding that wave of creativity. There is nothing like it. However, just as in any other position, the lows suck. There is nothing worse when you're trying to create and the drive is there but the art feels forced.
What's a musical guilty pleasure of yours?
A musical guilty pleasure of mine is old school Britney Spears.
What are some sources of inspiration for you?
I get inspiration from those around me. I get inspired from my brother who is also an artist. I get inspiration from my everyday situations and life. There is always inspiration that can be found.
Who is an artist that you look up to more than others today?
I look up to Billie Eilish the most in today's music. I just love her vibe and how she has created such a sound that is unique but very relatable to so many. Beyonce is another artist I admire, her work ethic is unmatched and she continuously delivers amazing performances. Her journey as an artist has been so incredible to watch.
Favorite activity to blow off some steam?
My favorite activity to blow off steam is to dance. It is so liberating to learn choreography and crush it.
Tell us about your latest release and how it came about?
My latest release is entitled "Breathe Fire." It came about as one of the first songs for the EP Finding Briar. This record is autobiographical. It is literally describing who I am as a person and what it's like to be with me. I wanted to make a personal song but still keep it fun which is why I chose this funky dance track.
What are some things you do to deal with anxiety and creative blocks?
To deal with creative blocks and anxiety, I dance or do pilates. Often times I try to mediate as well.
What's the future looking like for you?
The future is looking like a lot of shows and performances. More videos from the Finding Briar EP as well as more music for you all!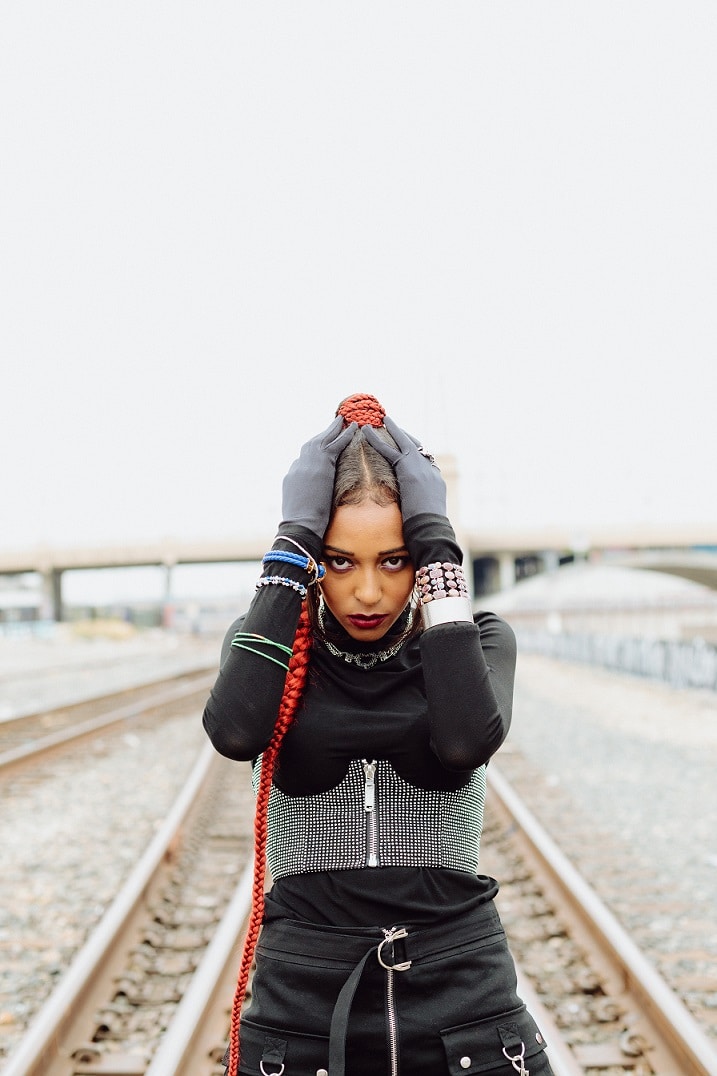 What inspires your visuals, videos, looks, etc?
What inspires my visuals and videos and looks are the 90s. I am a 90s baby and I grew up seeing so many incredible artists and videos. Their style was unmatched and each artist was often so innovative. Also , just my own imagination, I like to envision myself in my perfect world and I try to bring that to life with my visuals. When creating, I bring all aspects of who I am even when it comes to my outfits, dance routines, and music videos.
What is the most embarrassing memory and most proud moment of your career so far ?
Most embarrassing memory would have to be when I recorded a song once and it was just not it. My brother heard it and was like "no." Just "no." My most proud moment would have to be my video called "Show Up." I did a bunch of choreography and it was the first dance heavy video I've made thus far (coming soon.)
What is the best advice you've ever gotten?
I have received lots of words of advice but the best would have to be "this is the music-business." With that being said, I have always made sure everything on my end artistically is to the best of the ability. I understand that this is a business but at the end of the day, you have to represent yourself in the best light and have your 'business' together.
Where do you think the music and entertainment industry is headed after this past year?
think it is headed in a positive direction. Typically, when something major like this happens in the world we get a new wave of creativity and inventions, apps, music etc. I am very excited for what is to come.