Emerging pop singer/songwriter Stela Cole has released her anthemic new single "Rhapsody In Pink" via Ultra Records, a glammed-up and gritty track about knowing your self-worth. An audacious pop-come-hiphop interpolation of George Gershwin's "Rhapsody In Blue," the track spotlights Stela's creativity and versatility, using stunning and confident vocals over glorious bursts of horns, steady claps, and bass-heavy beats.
'Rhapsody In Pink' is so much more than a song to me. It's a work of art. It has completely transformed my vision as an artist, and I feel more authentic than ever," shares Stela. "I wrote the song about knowing your worth, especially as a woman, and I love how it's fun and playful but also sends the message that I won't be fucked around with."
What's your story as an artist?
I grew up as an athlete. I played soccer and was planning on playing in college till I had a back injury that ended my career when I was 17 years old. After losing what felt like everything at the time, I started writing songs on the keyboard in my parents' basement. It came so naturally and felt as if the universe was forcing me into music…and thank God it did haha. Now, my goal as an artist is to empower others to celebrate what makes them unique. Don't ever apologize for being true to your character. I grew up feeling like a misfit in almost everything I participated in, and I've adopted the underdog mentality from being told no over and over again. I want to use my platform to show others anything is possible when you keep your head down and embrace authenticity.
What inspired this last release?
I'd been scheming "Rhapsody in Pink" for over five years. Baz Luhrmann's The Great Gatsby was where the initial idea sparked, and when I decided to flip George Gershwin's piece "Rhapsody In Blue." There's this iconic party scene where they introduce Gatsby's character for the first time, and "Rhapsody In Blue" is playing in the background with a full orchestra. I fell in love with the idea and waited for the song to go into public domain in 2020, then searched for the right producer to help execute my vision. I finally wrote it with my producer Alex last November, and the song came together effortlessly. I also had recently gone through a painful breakup and wanted to write a song about setting my standards and reclaiming my independence. A lot of the lyrics are metaphorical and centered around describing the party scene from The Great Gatsby, but the overall theme is empowerment. Knowing your worth and acting on it.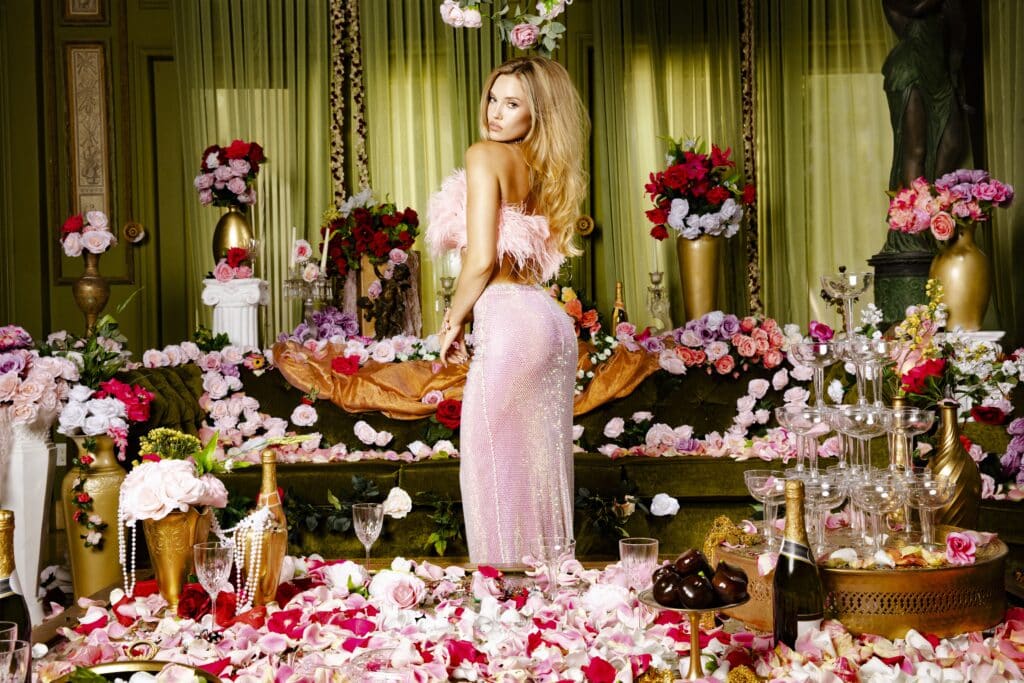 What is the relation between this track and "Rhapsody in Blue?"
I decided to keep the title "Rhapsody In Pink" as a nod to George Gershwin. Given "Rhapsody in Blue" is one of my all-time favorite melodies, I wanted to make the reference as tasteful as possible. I borrowed the main chromatic melody and rebuilt the sample to sound like an orchestra, reminiscent of the version they play in The Great Gatsby. It feels cinematic and dramatic in the most beautiful way. From there I stacked my vocal on top singing "la la la la la la la la la la la" to make it feel authentic and modern.
You seem to enjoy fusing different sounds and genres. How do you approach your writing and production?
I usually start with a concept and develop the idea on my piano, then bring it to my producer and flesh out the production and make tweaks to the lyrics and melodies in the studio. I'm constantly inspired by different eras and genres of music so it naturally comes out in all my writing… whether I'm purely inspired or actually borrowing pieces from an old song.
What's your favorite place or environment to write?
The piano in my room. It feels the most intimate and I can take all the time I need to get my feelings out and say what I want to say. I also love pulling up Pinterest boards and playing old music to find inspiration and brainstorm song ideas.
What's the record that influenced you the most?
It's way too hard to pick just one. But for "Rhapsody In Pink" specifically, I was influenced by Fergie's debut album The Dutchess.
Are fashion and aesthetics a part of your creative delivery?
Aesthetics are one of the most important parts of presenting my music. I think strong visuals can make a good song great, because it helps tell the story and add to the intensity of whatever emotion I'm trying to convey. Fashion also plays into the aesthetic because I wear clothing and do my hair and makeup in styles that nod to the eras I'm inspired by. Every detail matters.
What excites you the most about what you do ?
I'm currently trying to get better about living in the moment haha but working hard and envisioning my future success keeps me going every day. I cannot wait to tour the world and celebrate music with my fans in person. I just know it'll be the ultimate payoff.
What does music and art mean to you?
Music and art means expressing who I am on a canvas for the world to see. It means pushing boundaries and finding beauty in complete vulnerability. I want to tell my story in hopes that it resonates with other people. It's the most transparent way for humans to feel connected on a deeper level.
What's the best advice you've ever gotten?
Create your own luck. I think there's a tiny sliver of luck that truly is out of our control, but most of it can be created through taking every opportunity and putting yourself in the right places and surrounding yourself with the right people… along with being consistent and knowing how to adapt.