Sustainable fashion has only grown in popularity over the last few years as many new designers take on the task of reducing fashion's carbon footprint. It has become such a hot "trend" that even big brands are attempting to rebrand as eco-friendly. 
We have all seen the tags listing the percentage of recycled polyester and cotton in the garments hoping it will distract consumers from their harmful manufacturing process. With all this greenwashing, it is easy to lose track of which brands are genuine about their mission or not. Luckily, there are many designers upcycling and crafting unique eco-friendly textiles. It is important to bring attention to these designers and highlight their creative and important work.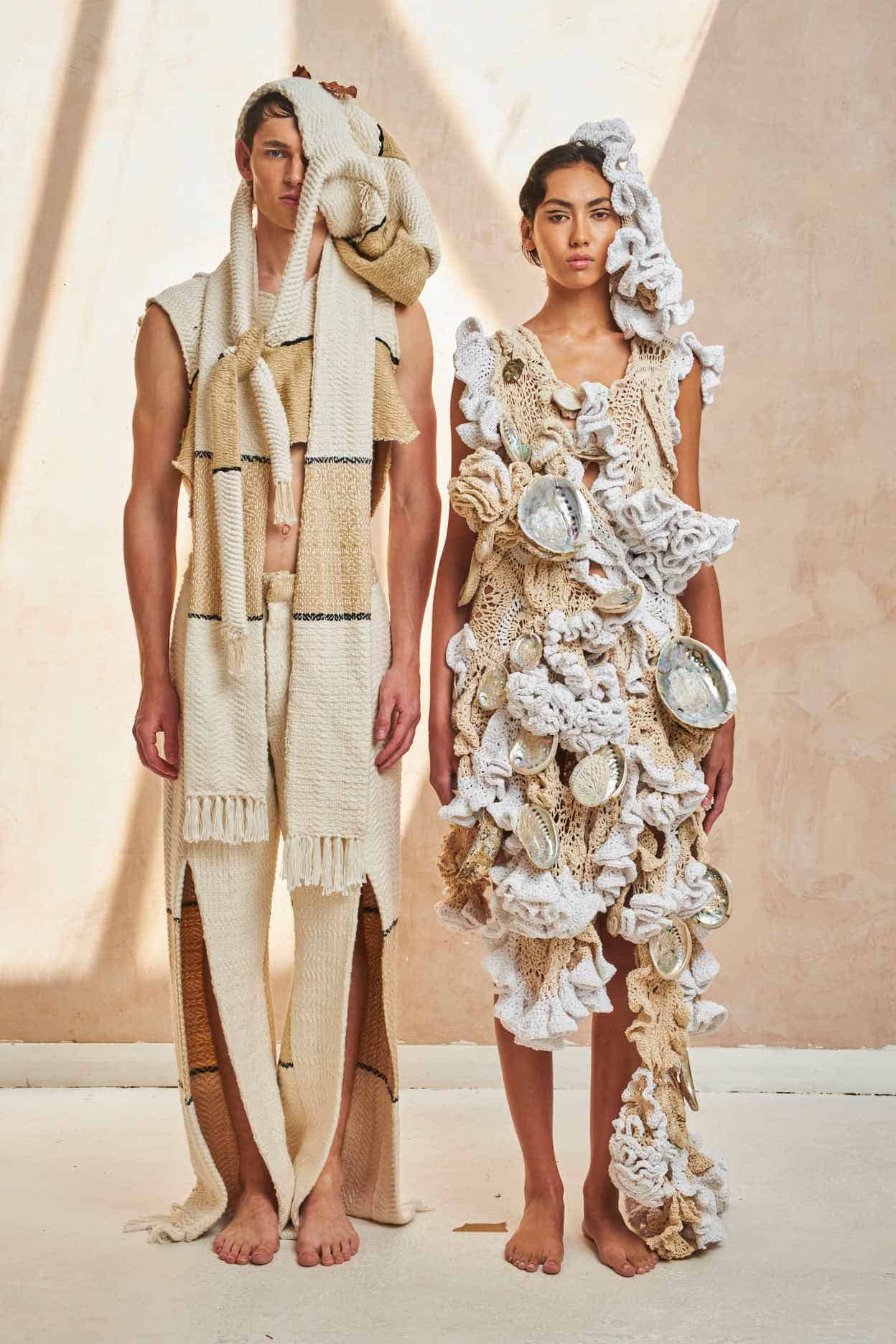 Luzan Robinson is a sustainable fashion and textile designer working to spread a message of inclusivity. She creates hand crafted garments made entirely of sustainable and recycled fabrics. 
She is committed to finding a way to produce her designs in a way that does not harm the environment because she believes that the beauty and sense of belonging that clothes bring to the world is tarnished when its creation harms the world around us. When examining her work, it feels organic and refreshing.
Robinson stated on Instagram that her work combines the natural beauty of the places she has lived with elements of the belonging and inclusivity of the 90s club kids' style. Her designs include crochet dresses, gloves, bags, and headpieces as well as knitwear that all have organic, soft silhouettes.
She sticks to a neutral color palette of white, tan, brown and gray. What is unique about Robinson's work is that she incorporates a lot of raw natural elements into her designs such as shells and dried chilis. Her designs really carry through her message of inclusivity and natural beauty.
You can clearly see the inspiration she has taken from South Africa and Kenya through the colors and use of shells. Even the crochet dress looks like coral. Her pieces are also gender neutral and could easily be worn by anyone.
Luzan Robinson's mission goes beyond helping the environment, she also wants to help the communities she came from. She uses woven fabric made by the woman at the Nayamba Trade Center, a trade school in Zambia that focuses on helping vulnerable young women learn skills and donates to help provide healthcare and wellness programs.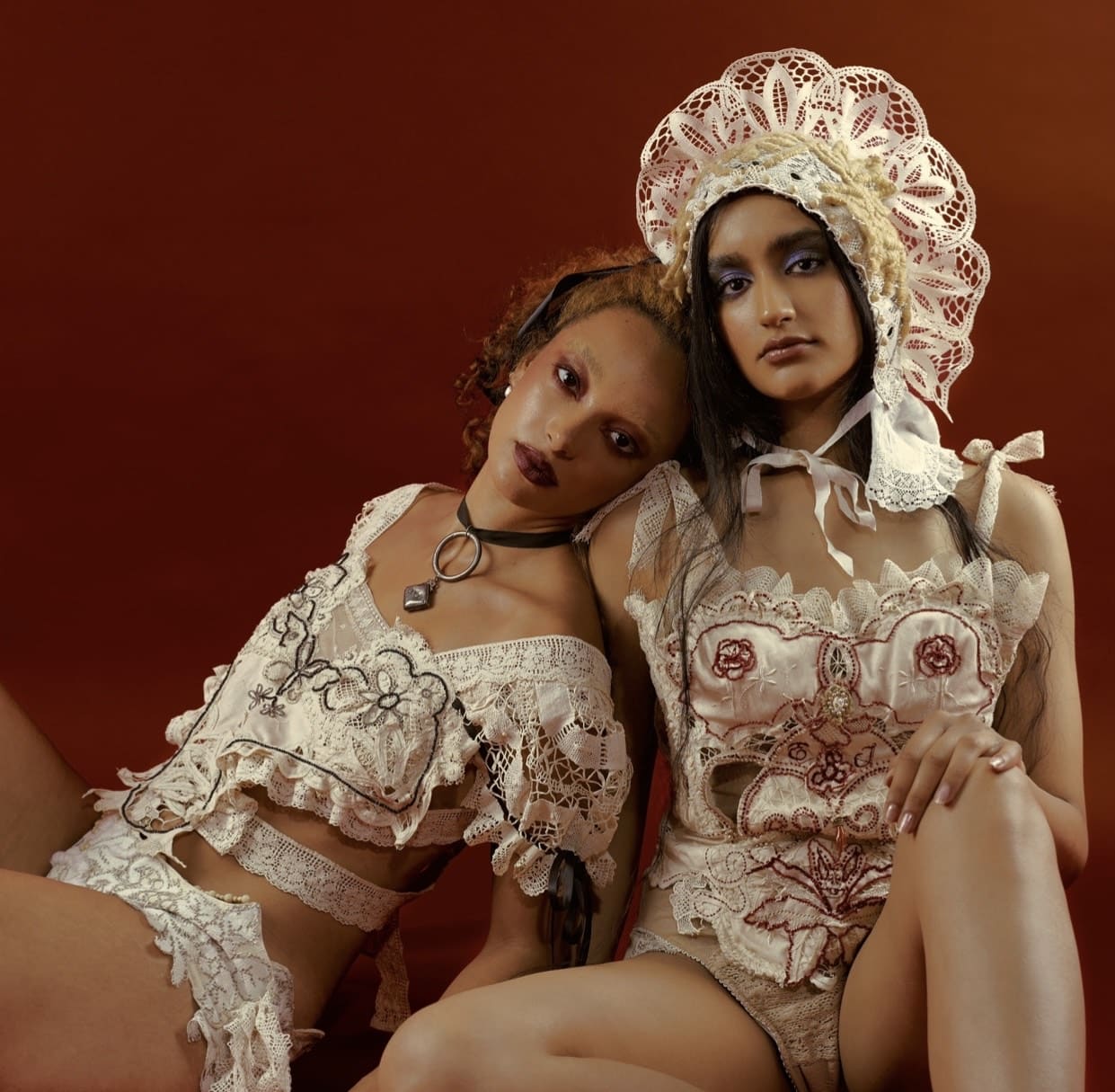 Erika Janavi is another fashion and textiles designer who hand makes sustainable pieces, but she takes a different aesthetic approach to Robinson. Janavi pulls inspiration for her surrealist couture garments from Victorian silhouettes. Her designs combine classical and contemporary elements to create a timeless, unique garment. Her pieces are constructed almost exclusively from antique and vintage fabrics and trimmings which are meticulously sourced from all over the world. Janavi crafts the garments from a variety of antiques such as table clothes, Edwardian parasols, and Christmas decorations. This innovative use of recycled materials is essential in the sustainable fashion movement and inspiring to see. She uses these textiles to create embroidered corsets, bodysuits, beaded harnesses, camisoles, chaps, and headpieces. Ruffle and lace details and baroque patterns drive home the exquisite, evocative, and classic aesthetic. You can find Janavi's pieces for sale on her website along with some curated vintage and antique accessories. 
Paula Ulgarui Escalona is an artist of many mediums who has done several projects focused on sustainable fashion. Their work explores the idea of reconnecting humans with nature through clothing. Ulargui's research project "Siamese Skins" seeks to raise awareness of the need to create a more conscious, sustainable fashion industry. Plants and textiles are combined to create clothes where the human body is the support for nature to grow, live and create its lifecycle. 
These garments are meant to serve as a second skin to connect two species. Plants and textile patterns were carefully selected to not only support the life cycle but also look beautiful. If their work sounds familiar it is because you have seen their collaboration with Loewe for their Menswear SS 23 show.
Ulargui teamed up with them to grow plants on a series of garments and shoes so that over time the pieces can merge with nature. Black coats, white sneakers, and gray sweatpants are bursting with vibrant green sprouts. Paula Ulargui's work is not only beautiful and inspiring, but also a reminder of the importance of the relationship between humans and nature.
These young artists are some of the innovative minds making strides in the sustainable fashion movement. Seeing what they can create without harming the planet shows that the fashion industry does not have to be so wasteful for the sake of beautiful clothes. Make sure to show your support for these designers and others like them to help further the sustainable fashion movement and change the industry for the better.
Sources:
https://www.instagram.com/luzan.robinson/
https://paulaularguiescalona.com/LOEWE-SS23