Photographer Credit – CASS
Instagram Handle – @casshuckabay TikTok Handle – @cassidyhuckabay
Q: What's your story as a creative?
A: This might be a longer response because I believe that people thinking about getting into music or people in difficult career positions could be inspired by this.
My mom put me in piano lessons when I was four or five. Funny enough, I never really liked playing the piano. Still, she put me there because she wanted me to try my hand at music (thankfully). If I could go back now, I would've loved to have taken drumming lessons because I was the annoying kid who always beat on pots and pans. When I entered the sixth grade, I decided to play the bassoon because nobody else wanted to play it. I played the bassoon until my sophomore year of high school when I regrettably let a douchey band director affect my love for the bassoon. It's one of my only regrets in my life, though I would never have wanted to play in an orchestra for a living, so I guess it all worked out.
After quitting the band in high school, I started a band with my friends. Although the band never went anywhere, It showed me that I had a genuine love for music and that I had musical ideas of my own that I wanted to explore. I think it was when I was 20 years old that I started working
with a great songwriter/multi-instrumentalist named Jason Smith. We formed an artist group together where we were creating electronic/rock/pop music. After two years of doing that, I finally realized that my strengths were more on the mixing and mastering side. I was never really classically trained on an instrument that played chords, so I never developed the skill to make the music I heard in my head.
I doubled down on mixing. In 2015 I decided to attend community college to learn more about the music business. In my first semester, I met an incredible music branding expert named Laura Bull. She told me that if I wanted to be something special in music as an engineer or producer, I should go to The Blackbird Academy in Nashville. After an intense six months program at The Blackbird Academy, I moved to Los Angeles to become an assistant engineer to a prolific mixer. After working for him for several months, I decided to quit. I did not have the mental fortitude to deal with the inhumane situation I subjected myself to while working for him. I won't dive into any specific details, but this was the darkest time in my 32 years of life. I felt incredibly down on myself and on my future in music daily.
I moved back to Dallas for a year and sold home and auto insurance just to feel solid ground. I needed stability in my life and job. In the summer of 2017, I had my first psychedelic experience. I was in the shower exactly 3 days after this experience, and I began to cry pretty intensely in the shower. All my passion and love for music came rushing back in, and it hit me like a freight train all at once. I had to mention psychedelics here because, without them, I don't know that I would have wiped away the fog, hurt, and jadedness I had for music. Two weeks later, I quit my insurance job. With all the money I had saved up from working there, I went on a trip around the world with some friends, including one of my best friends and business partners, Sy Huq. On this trip, I made music daily in other countries to keep the inspiration train rolling. After four months overseas, I moved back to Los Angeles in February 2018.
I took the music I had created overseas to an event on the Warner Brothers lot called "Shape." I unknowingly showed this music to an incredible music supervisor at a trailer company who told me that I should consider composing trailer music as a career. She said I had the skills and the
sound design for it, which could be very lucrative after I learned the structure of trailer music. After taking a short course on structuring trailer music from an online trailer course from Evenant, I created several tracks to pitch to a particular trailer publisher. I began writing custom music for this trailer publisher. After a few sync placements as an out-of-house composer, I was hired in-house as a trailer music composer. After some time with this company, I became an in-house album producer and a mixing and mastering engineer. During my time there, I mixed well over 1000 tracks, and I believe that's where I learned what my sound and workflow as a mixing and mastering engineer came from. I listen back to my work then, and I can tell just how far I have come sonically. Still, the sheer amount of music I mixed during my 3 years with this company is undoubtedly a cheat code for jumping ahead in my career. In January 2021, I opened my own company called Seltzer sounds, where I reached my goal of becoming a freelance mixing and mastering engineer. I still have a long, long way to go as far as achieving my larger goals in life, but being able to live off of music alone and being my own boss are two things I am very proud of.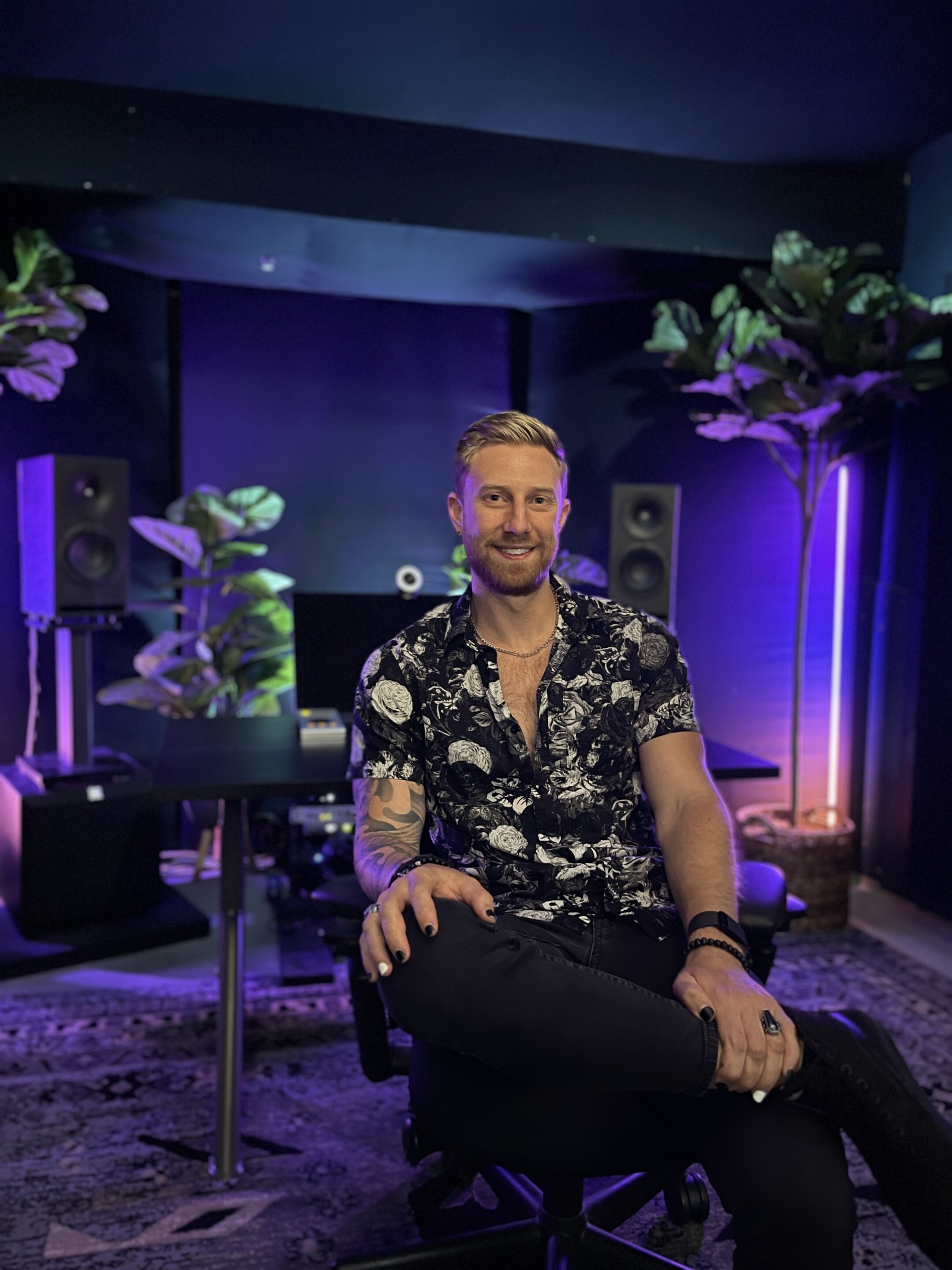 Q: Mixing is often overlooked. What does it do to a record?
A: This is so true. Unfortunately, artists, producers, producers, or even the record label often overlook mixing. When I think of the enormous importance of mixing, I like to give a particular film analogy. All of us have seen a film/short film that either our friends made or a youtube video created by someone just starting out. The analogy is that you can shoot the most beautiful footage in the world, literally second to none. Without sound, it is a masterpiece. Suppose the dialog, ambiance, sound design, foley, and sound fx are cheaply made. In that case, the film immediately becomes bad or cheaply made in your mind. Let's take the same analogy and flip it on its head. You are watching a movie, and the picture looks mediocre. You can tell it was shot on an older iPhone. Still, the dialog, ambiance, sound design, foley, and sound fx are incredibly well made and fit the picture perfectly. Suddenly, the movie feels so much better and more expensive, leaving the viewer with a much better feeling leaving the theater than the film with terrible sound.
With all that being said, I think that the mixing and mastering process can make a massive difference in the repeatability of a track because of how it leaves the listener feeling afterward. Mixing can leave the listener wanting to hear more, or it can leave them wanting more from the song.
Q: You mentioned you worked on a release with Loren Gray. Tell us more about it.
A: Yes! My good friend Bardo, an incredible producer, songwriter, and guitarist in the fantastic band Beauty School Dropout is the executive producer of Loren's upcoming album and the recently released single "Guilty." I mixed 4 tracks on the last BSD album, including the smash
"WE MADE PLANS & GOD LAUGHED" and "ALMOST FAMOUS Feat. Mark Hoppus of Blink 182." While mixing those tracks, Bardo and I clicked and understood how each other worked. I also understood what Bardo's ear is looking for from a mixing and mastering engineer. When it came time for Loren's album to move on to the mixing phase, he reached out and asked if I wanted to mix it, and of course, I said yes!
Her first single out, "Guilty," has a who's who of young LA talent on it. The songwriters include Loren Gray, Amelia Moore, Bardo, Colie Hutzler, Dasha, J Bach, Pinkslip, and Inverness. The producers include Bardo, Inverness, Pinkslip, and Colie Hutzler.
Q: What's some of the best work you highlighted with your mixing?
A: This is a tricky question, but I will try to list a few of my favorites!
-"See You In Hell" by Beauty School Dropout.
● Produced and written by Beauty School Dropout and Inverness.
● Mixed and mastered by me. 
-"M&Ms for Breakfast" by Naika
● Written by Naika and Michael Brun
● Produced by Cody Tarpley and Michael Brun
– "EXUVIUM [beauty is nothing but the beginning of terror, that we are still able to bear]" by Crywolf
● Written and Produced by Crywolf
● Mixing and mastering by Crywolf and Me.
– "Dance Forever" by Hudson Mohawke
● Written by Hudson Mohawke and Mette Towley
● Produced by Hudson Mohawke
● Mixed by me
● Mastered by Joker
-"reaLitie biTes" by tiLLie
● Written by tiLLie, Boy Blue, Skyler Stonestreet
● Produced by tiLLie and Boy Blue
● Mixed and mastered by me.
-The song I haven't worked on yet.
Q: What are some artists you would love to work with?
A: There are so many artists I would love to work with. There are a few legacy acts I would love to work with and some newer ones, and I'll say a diverse list of them.
● My Chemical Romance
● Avenged Sevenfold
● Slipknot
● Rage Against The Machine
● M83
● Kid Cudi
● The Gorillaz
● Blink 182
● Phantogram
● Justin Beiber
● Dua Lipa
● Royal Blood
● Bring Me The Horizon
● BLACKPINK
● Heilung
Q: You spoke about mental health and staying grounded, especially in the music industry. Care to expand?
A: I don't think I can adequately speak on mental health. I have had some small first-hand experiences with waves of depression and anxiety. I feel fortunate not to deal with mental health issues daily. What I think that I can speak on, however, are some routine-based things I do that help move me constantly forward, allowing me to be my very best each day. ● Go to bed and wake up at the same time each day.
● Working out several times a week, even if it's 30 minutes of walking around the neighborhood or to a coffee shop.
● Stop eating processed foods.
● Do at least one mentally intense daily task to keep your brain stimulated. ● Meditate for at least 10 minutes a day.
● Cut back or stop drinking alcohol.
● Every hour or so, get up from what you are working on, walk around and change your scenery. It will give you a different perspective on what you're focused on. ● Set boundaries for yourself with your work and clients. You have to take care of yourself before you can care for others. This is important, or you will be drained of your energy, creativity, focus, and drive.
Q: What's something you would never change in your life?
A: I will never change my hunger for new creative opportunities. I love the adventure of taking on new challenges. I have a whiteboard in my shower where I do all my thinking. I am constantly jotting down new ideas. Whether it's a new verticle to my mixing and mastering business, such as the podcast I am launching this year called "On The Right Track," or a new idea on how I can service my clients more effectively. I am always coming up with new ideas and doing this tournament-style gladiator battle of ideas until one comes out victorious. When
thoughts can pass the Gladiator test, I know they have some real-world validity and excite me enough to make it through the battle process. I learned this technique from my buddy Sy Huq.
Q: Was there a mistake you made that really taught you well and showed you the way?
A. I have two pieces of advice here.
● No matter what, get an entertainment attorney to read over paperwork no matter how much you trust someone or how badly you need the gig. Whatever price you pay them is nothing compared to the money you could miss out on or the hurt you may feel one day when someone close to you betrays you over wording in the contract.
● Do your research on the mentor you choose to have when coming up in this industry. It is easy to look at credits and think how badly you would like to work for a particular person. Credits mean absolutely nothing if you are going to leave that position so jaded that you no longer want to be in music. The internet is limitless. Reach out to former people who have worked for the person you choose to be mentored under. See what they have gone on to do with their life. Ask them how their time was with that mentor. Were they given credit or passed work when people couldn't afford their rate?
Q: Projects and goals for 2023?
A: I have a goal board I create every year before New Year to visualize my goals throughout the year. It's less "woo woo" than it sounds. Really, goal boards are great so that you don't forget what your intentions were at the start of the year. Things come up, and you forget where you wanted to be, and being able to visually see it makes you not forget.
With that being said, some of my goals this year include the following:
● This year I will start my podcast "On The Right Track," and I will continuously bring on more prominent and exciting guests. I will regularly shoot, post, and push the bar creatively and helpfully.
● I will be a mixing engineer on a song or album nominated for a Grammy in 2024 and be inducted into the recording academy for 2024.
● I will mix a song that makes Billboard's top 100.
● This year I will stay on top of my meditation, journalling, and workout routine. I am at the peak of my performance level when I am regular with all of these.
● I will travel more this year. Last year I invested in a travel rig allowing me to travel and work simultaneously. Traveling is inspiring and allows you to view creative obstacles from a different angle. I will get back on the road more this year while maintaining a podcast and a flourishing mixing business.