Art director, musician, luxury fashion entrepreneur. In one word: an artist.
Her career has seen start her own brand at 21 years old, work with major luxury brands, lend her vision and direction to reputable magazines and recently land a national commercial featuring her own song 'Wild'
Francesca told MUNDANE all about the wild ride that's been her life. Thus far.
Ok. Here's the question: who's Francesca?
I guess an artist? Everything feels as though it's progressed naturally and organically. From Façonner, working in luxury fashion with major fashion maisons with the purpose of focusing on 'slow fashion' to then going on to start my own luxury clean beauty brand with the focus on sustainability and clean ingredients.
Which is CHES Editions. Tell us more.
I saw a gap within luxury whereby beauty was either only aesthetically 'luxurious' or 'clean' and I felt passionate about bridging that gap. Ches Editions is a clean beauty brand and its ethos is about not compromising on both the purity of ingredients and the luxury of its aesthetic which is emulated in our hero-product, The Ultimate Oil for Hair.
What about music?
My song 'Wild' is the soundtrack of the national TV commercial we were fortunate to be selected for. Music is my first love. I've been writing songs since I was 5 years old. So every facet of my creative self in a way has come together.
That's great! So what prompted you to start CHES Editions?
I felt hugely passionate about creating a product that was clean and sustainable, with pure ingredients that could simultaneously exist within the luxury space that I feel fortunate to have worked with for my first company Façonner. The quality of ingredients in The Ultimate Oil and its benefits, as well as their purity was also inspired by the impact homeopathy has had for me.
What are some of your inspirations when it comes to the looks, aesthetics and overall vibe of the product?
I think its extension of my love for classic contemporary design and old-school luxury aesthetic. Red is my favourite colour. But also, for our customers, our glass bottle emulates artisanal perfumery and the luxury and quality to which Ches Editions adheres.
It sure does! What was your first exposure to fashion and beauty?
Storytelling. I remember, once upon a time, a Donna Karan campaign that I fell in love with and this beautiful, effortless poncho in the collection and feeling as though I wanted to be that girl. Fashion has this amazing way of letting us express ourselves.
So interesting! Let's get back to the present though! How does it feel to see not only your brand but yourself on national TV?
An amazing milestone for Ches Editions. Similarly to when I first saw our product at Galeries Lafayette in the Middle East which was one of the first stores that launched The Ultimate Oil. As for me, to get to represent my brand and my music in this way is awesome.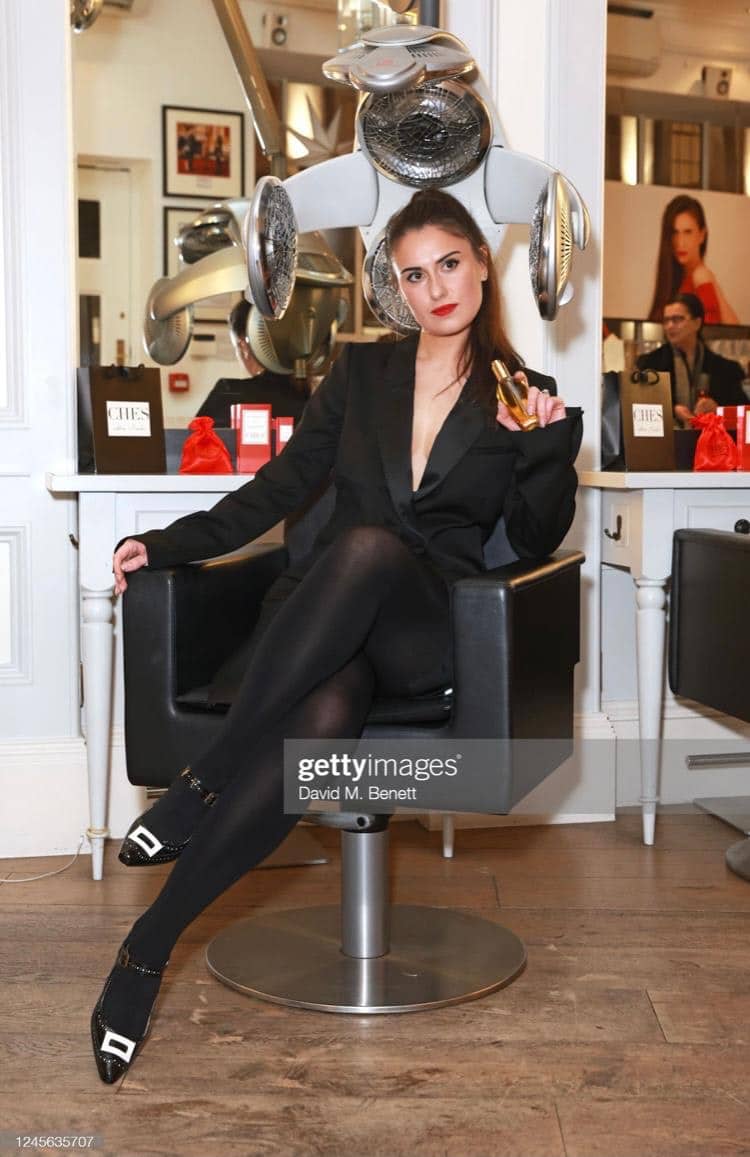 You also wrote the song for the commercial titled 'Wild.' Do you remember the first time you encountered an instrument?
Vividly. I must have been 4 or 5. The very first time I saw a piano, played it and fell in love. As far as writing songs, I couldn't even explain to you how it happens because it's such an intrinsic part of myself that it's difficult to put into words. The best way for me to explain it is this: when I hear a melody in my head and start developing a story, my mind shows me visuals and images. Aesthetics and sound go hand in hand for me.
Clearly! Any music heroes that shaped your style?
Alanis Morisette; her songs tell amazing stories and really marked my formative years. Anthony Kiedis from the Chili Peppers is also an extraordinary lyricist. Joni Mitchell is an incredible poet too. I could go on and on…
What inspired the music for this commercial?
I wanted it to be extremely vibey and portray confidence and attitude. Almost like when you're at a runway show. When I came up with the first verse, I knew it was going to be the one!
What do you think the secret behind CHES Edition's success is?
Quality, production, effectivity and also feeling a sense of closeness with our audience. I think I knew who our customers were from the outset in a sense because I am the customer too. What's crucial though is the fact we are telling a meaningful story with The Ultimate Oil. We want to tell you about the purity of the ingredients we use, the fact it actually works, the romance of our aesthetic and the impact this has not only on ourselves but our environment and the greater good within the luxury industry. From the feedback, our customers feel the same way.
That perfect marriage between meaningful, clean yet luxurious aesthetics is what makes us unique.