OLIPOP is a functional soda that offers the experience of enjoying cola without the guilt. OLIPOP was formulated alongside a team of leading scientists who developed a tonic that combines the classic soda taste with the benefits of plant-based fiber, prebiotics, and other botanical ingredients to help balance out the body's microbiome and promote overall well-being.
The brand  just announced multi-GRAMMY nominated Cuban born singer/songwriter Camila Cabello as their first-ever major Brand Partner. While known primarily as a singer, songwriter, and actor, Cabello is also a passionate businesswoman working to support brands with impactful missions. 
"What we put into our bodies can lead to so many different health issues, including negative effects on your mental health," said Cabello. "I'm proud to partner with a brand that is working to provide healthier drink options that align with how I strive to live."
Co-founder David Lester and VP of marketing Graham Neuburger told MUNDANE all about the origin of the company started with co-founder Ben Goodwin
Tell us the story from the beginning
"I used to work for Diageo for several years and traveled around the world with it until I decided to move to the Bay Area and quit my job. It was actually my boss at Diageo who introduced me to Ben who was looking for a business partner at the time."
Did you already start thinking about OLIPOP?
Not at all! We started our first venture called OBI which wasn't as successful as OLIPOP would turn out to be therefore you can easily imagine it was such an amazing learning experience for us. We took a modest exit and started formulating the early stages of OLIPOP. About 4 years ago.
Those slight failures are usually the most important phases for an entrepreneur. Don't you think?
Without a doubt! We came out of that stronger and ready to come back on top with our next idea.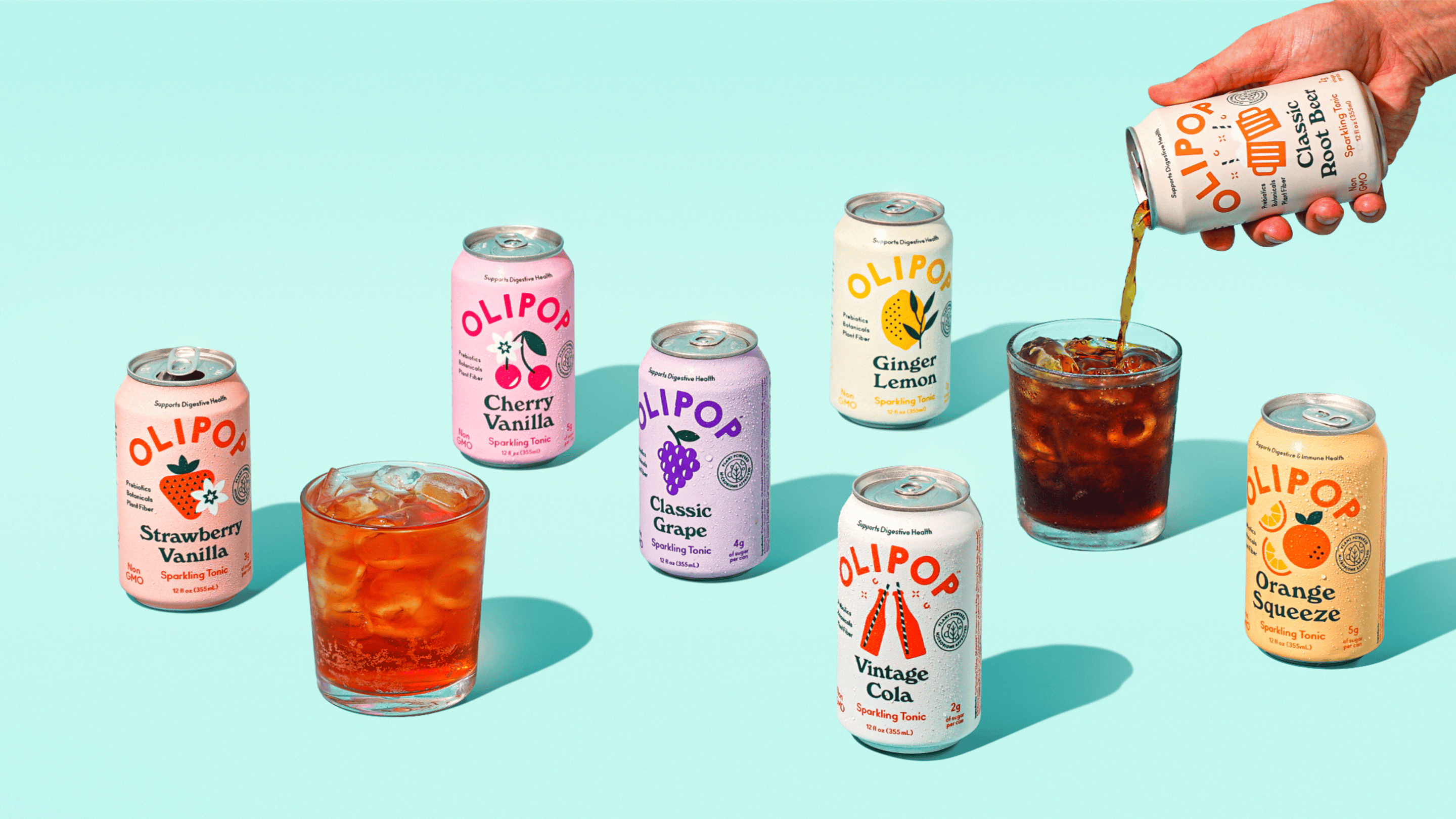 Exactly! So what gave you the idea for OLIPOP?
This goes back to Ben's teenage years when he decided to cut the unhealthy diet he had been following for far too long. His body benefitted quite a bit from it but so did his mental clarity, as he discovered. This transformation spurred him to quit college and teach himself microbiology to the point where he decided to figure out a way to take the benefits of digestive health to a broader audience.
By the time I met him he was about 5 years deep into the formulation of what would later become OBI. He was living near Santa Cruz and saw a lot of people were drinking Kombucha yet many more were not loving it at the same time. That's when he thought 'what if I make it taste like a soda?'
That was the 'million dollar idea' moment!
Amazing! What happened next?
Well it's funny because everyone shut down the idea with your classic 'this isn't gonna work, man…' type of comment. No one believed healthy soda could be a hit.
Well you proved them wrong!
Well yeah! Because as entrepreneurs we flipped the perspective: what people saw as a 40 billion dollar industry that people had a massive attachment to we saw as a 40 billion dollar industry that people had a massive attachment to which caused them a massive health problem.
Super! What were the main difficulties you had to face during the developmental stages of the product?
Mostly the business and funding side of it all. There's not really a manual to get your funding secured so it's a lot of trial and error and learning from your mistakes.
What did you learn and bring from your past venture into OLIPOP?
Mostly the immeasurable value of humility and vulnerability. There are a lot of moving parts and unpredictable factors to this job. Those you can't control but you can control how you react to those and that's key for success.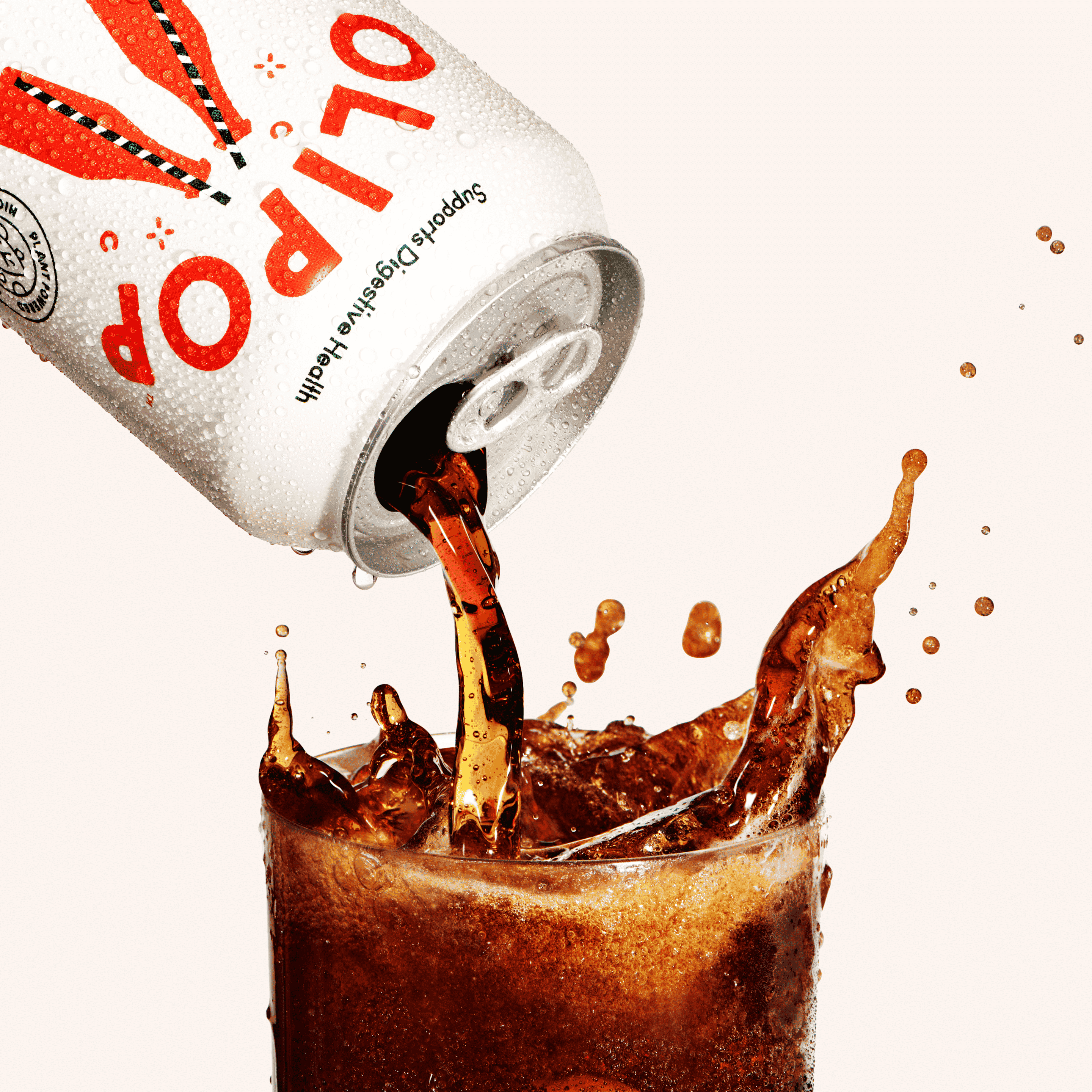 What's your approach to branding, visuals and your aesthetics?
We are proud to say that we broke a lot of rules in this field, first of which sensitively redimensioning the amount of sugar used in our drink (we only use 2-5 grams) and on top of that adding a layer of health and self-care mixed with unique flavors like root beer etc.
Even the whole design is unique: it's meant to be nostalgic, youthful and colorful and it's meant to give you the same pleasure and satisfaction of a soda without wrecking your digestive system!
Tell us about this amazing collab with Camila Cabello! How did that come about?
Well, this was such a big moment for us. Even before Camila, a lot of other celebrities as well as pro investors wanted to lend a hand to the company because they either found our product on shelf or were introduced to it by a friend and just loved it. The message as well as the taste resonated with them. 
Camila also became an investor that way! 
How do you structure and envision big celebs collaborations like these? I'm sure you want to show this is not just a paid partnership or something, correct?
Absolutely! Authenticity is key! A lot of downfalls in modern marketing boils down to finding a big name, slapping them on a creative campaign and waiting for the followers to migrate over to your product. We wanted to take a different approach.
We still look for points of integration with someone like Camila however the difference is that we want to help her tell her story through our product. Subsequently, that will automatically help us tell our own. It's absolutely organic from start to finish!